"Is the Tardis party becoming attuned to horrors?": The Stage reviews The Aztecs (May 1964)
---
Television critic Bill Edmund, writing in industry weekly The Stage and Television Today on 28 May 1964, covered the opening episode of Doctor Who serial The Aztecs in some detail.
It's probably a safe assumption that his line about Jackie was intended as a compliment, even if his view of the programme generally seems to have been a little jaded.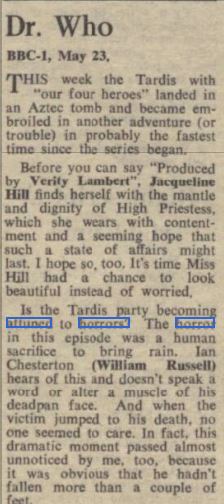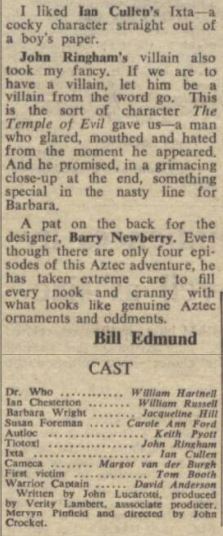 Reviews: Dr. Who (BBC-1, May 23)
This week the Tardis with "our four heroes" landed in an Aztec tomb and became embroiled in another adventure (or trouble) in probably the fastest time since the series began.
Before you can say "Produced by Verity Lambert", Jacqueline Hill finds herself with the mantle and dignity of High Priestess, which she wears with contentment and a seeming hope that such a state of affairs might last. I hope so, too. It's time Miss Hill had a chance to look beautiful instead of worried.
Is the Tardis party becoming attuned to horrors? The horror in this episode was a human sacrifice to bring rain. Ian Chesterton (William Russell) hears of this and doesn't speak a word or alter a muscle of his deadpan face. And when the victim jumped to his death, no one seemed to care. In fact, this dramatic moment passed almost unnoticed by me, too, because it was obvious that he hadn't fallen more than a couple of feet.
I liked Ian Cullen's Ixta—a cocky character straight out of a boy's paper.
John Ringham's villain also took my fancy. If we are to have a villain, let him be a villain from the word go. This is the sort of character The Temple of Evil gave us—a man who glared, mouthed and hated from the moment he appeared. And he promised, in a grimacing close-up at the end, something special in the nasty line for Barbara.
A pat on the back for the designer, Barry Newberry. Even though there are only four episodes of this Aztec adventure, he has taken extreme care to fill every nook and cranny with what looks like genuine Aztec ornaments and oddments.
Bill Edmund
---