"It has certainly captured me": Marjorie Norris reviews "An Unearthly Child" in The Stage (November 1963)
---
The Stage and Television Today was one of several publications to review the first episode of Doctor Who late in 1963; critic Marjorie Norris had plenty of good things to say about it.
I've tried (briefly) to find out a little more about Norris (who would later write a rather lovely, positive review of the episode in which Ian and Barbara depart from the programme; I hope to post it shortly). Unfortunately she's not an easy woman to track down with a bit of simple Google searching, as there are other Marjorie Norrises in the way: a smokescreen of Marjories. Her work as a reviewer for The Stage shows up from 1963 until 1967, and thats really all I know.
You could almost imagine her as a time-travelling fangirl from the 21st century, zipping back to the Sixties to give "Dr." Who a bit of support in its early days. Her description of Hartnell's Doctor – "a pastiche of absent-minded professor, space age scientist and medieval wizard" – is a good one, and I like that she gives Carole Ann Ford proper credit for immediately making the role of Susan her own. Other aspects of the production are warmly praised too; it's really only the cave people who slightly let the side down as far as Norris is concerned (and I hope even passionate fans will allow her this, especially since she expresses it so kindly).
Scroll down for a typed, screen-reader-friendly version of the piece.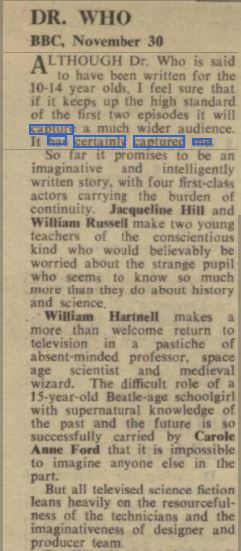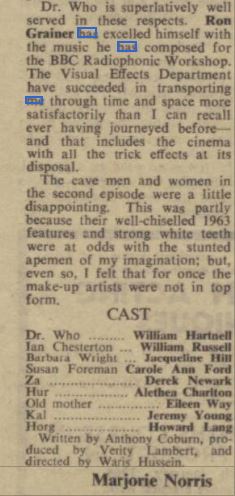 Meant for children but this will get a much wider audience
DR. WHO: BBC, November 30
Although Dr. Who is said to have been written for the 10–14 year olds, I feel sure that if it keeps up the high standard of the first two episodes it will capture a much wider audience. It has certainly captured me.
So far it promises to be an imaginative and intelligently written story, with four first-class actors carrying the burden of continuity. Jacqueline Hill and William Russell make two young teachers of the conscientious kind who would believably be worried about the strange pupil who seems to know so much more than they do about history and science.
William Hartnell makes a more than welcome return to television in a pastiche of absent-minded professor, space age scientist and medieval wizard. The difficult role of a 15-year-old Beatle-age schoolgirl with supernatural knowledge of the past and the future is so successfully carried by Carole Ann Ford that it is impossible to imagine anyone else in the part.
But all televised science fiction leans heavily on the resourcefulness of the technicians and the imaginativeness of designer and producer team.
Dr. Who is superlatively well served in these respects. Ron Grainer has excelled himself with the music he has composed for the BBC Radiophonic Workshop. The Visual Effects Department have succeeded in transporting me through time and space more satisfactorily than I can recall ever having journeyed before – and that includes the cinema with all the trick effects at its disposal.
The cave men and women in the second episode were a little disappointing. This was partly because their well-chiselled 1963 features and strong white teeth were at odds with the stunted apemen of my imagination; but, even so, I felt that for once the make-up artists were not in top form.
Marjorie Norris
---
Found the newspaper clippings yay
---